Talent Acquisition and Onboarding
September 28, 2021
Potential Government Shutdown Impact to Employer Processes
By Jason Fry
The federal government is set to shut down as of midnight on Sept 30 as the fiscal year 2021 budget expires. Learn what this could mean for employer processes.
Stay Informed
Subscribe and never miss a post.


Updated September 30, 2021
Stopgap Bill Avoids Shutdown… For Now

Congress approved and President Biden signed a stopgap bill that will keep the federal government running through December 3, 2021.
---
Original article published September 29, 2021
Potential Partial Government Shutdown Implications for Employers
As you may be aware, the federal government is set for a partial shutdown as of midnight on September 30 as the fiscal year 2021 budget expires. Here are some important updates regarding potential implications to your onboarding and offboarding processes.
Employer Form I-9 and E-Verify Onboarding Implications:
During a shutdown, you should still maintain your Form I-9 processes, including meeting your Section 1 and Section 2 deadlines for I-9 compliance.
Historically, during a U.S. government shutdown, the E-Verify system does not accept new cases to determine eligibility of employees to work.
However, the I-9 Management system from Equifax maintains a record of cases to be submitted even while E-Verify is shut down. The I-9 Management system will submit cases when the E-Verify service resumes. This allows for E-Verify processing to occur automatically. Our clients do not have to resubmit or track the status of the government shutdown.
Employer Unemployment Processing Implications:
Federal employers, with employees eligible for the Unemployment Claims for Federal Employees (UCFE) program, could see an increase in unemployment claims activity. Private employers who provide services to the federal government could also be impacted in some situations.
For clients of the Unemployment Cost Management service from Equifax, our CaseBuilder™ technology platform and skilled consultants help you keep your deadlines and reschedules on point, even during disruptions or spikes in activity.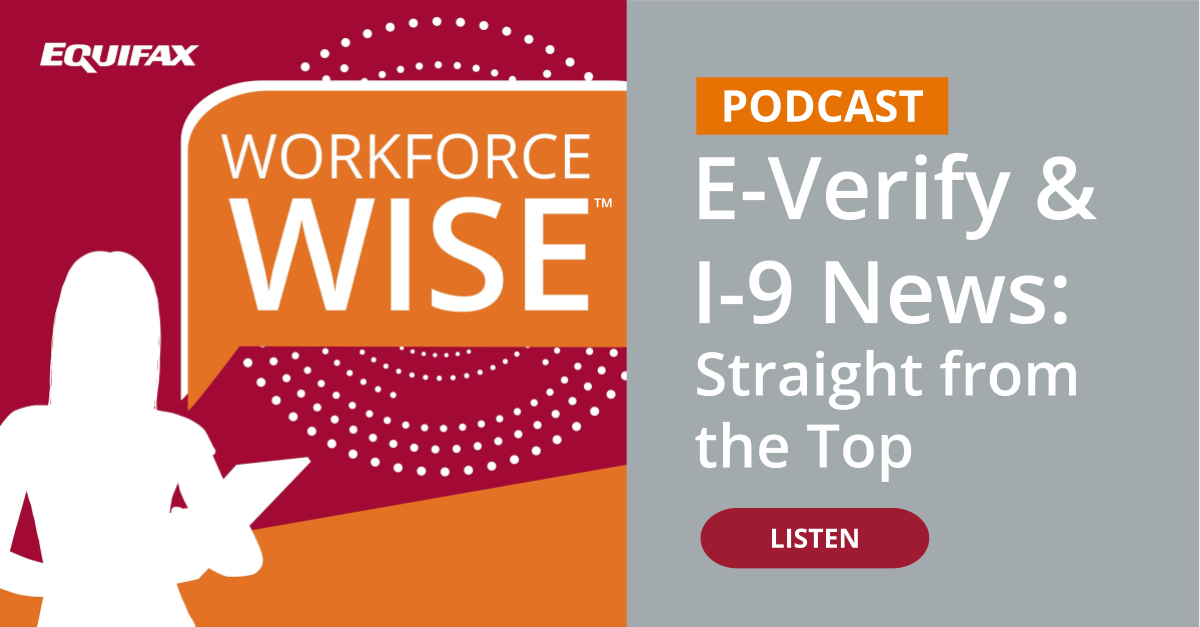 Learn about the benefits of the E-Verify program and where the program is headed in the future in recent episodes of The Workforce Wise™ podcast, E-Verify and I-9 News: Straight from the Top, Part 1 and 2. During the podcast our guest, Tammy Meckley, the Associate Director, US Citizenship and Immigration Services, Immigration Records and Identity Services Directorate with the Department of Homeland Security covers how the program has grown and the impressive employment authorization rates employers are getting when using the system. Plus she covers tips for employees to use tools from E-Verify to proactively review and confirm their data.

Listen today to learn more about the E-Verify program and how your organization and your employees can benefit.
The information provided is intended as general guidance and is not intended to convey any tax or legal advice. For tax or legal information pertaining to your company and its specific facts and needs, please consult your own tax advisor or legal counsel.